The Vocal Constructivists returned to Pentameters Theatre on 20 December 2022 to perform 1952 at 70, in celebration of the 70th birthday of landmark experimental pieces. VCs offered fresh interpretations of Earle Brown's December 1952 and John Cage's 4'33", alongside works by Morton Feldman, György Ligeti, Otto Luening, Władysław Szpilman, Vladimir Ussachevsky, and a premiere by founder member artist Alison Cross (b. 1952).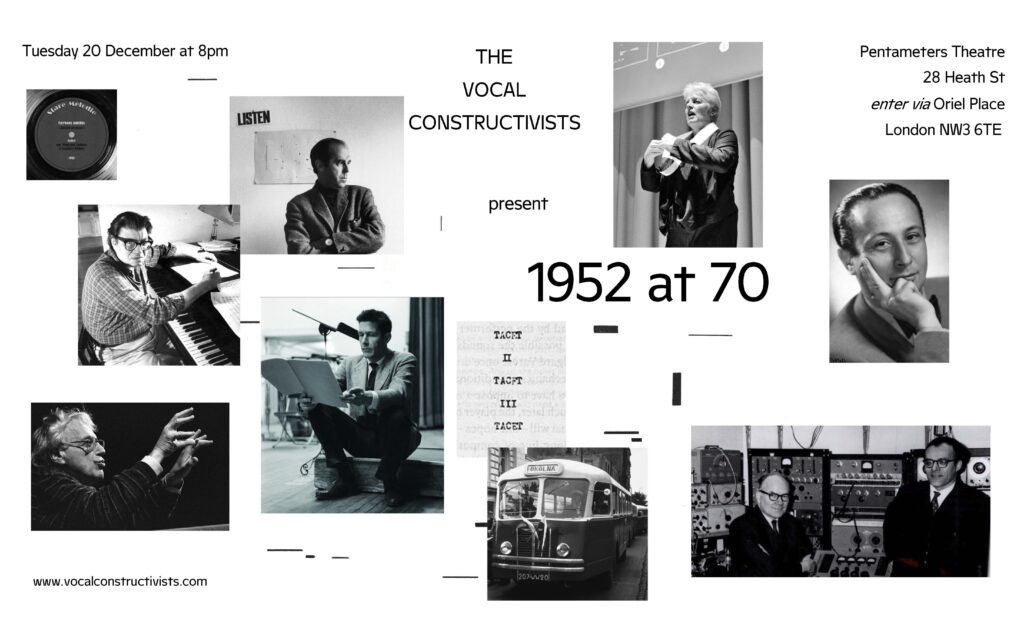 Scratch and the Sequence
Following a busy two years online, the Vocal Constructivists resumed live performance in summer 2022 with a sell-out show at Pentameters Theatre, London. The programme revisited groundbreaking works of past decades and premiered several new pieces. Scratch and the Sequence questioned the contents of Linn D's Nothing in Nothing, explored being Half Rite, listened to Barbara Alden's Inner Word, chased Ben Zucker's Wolffs, crumpled Nye Ffarrabas's paper concerto with eggs, buzzed after Simone Forti, vibrated Daniel J. Wolf's spectral madrigals, woke up Jin-Hi Kim's Living Tones II, and it was back to the board with Cornelius Cardew's Schooltime Compositions and Alvin Lucier's Opera with Objects.