"a group of exceptionally gifted singers who are at one with each other" – review from Choir and Organ
Founded by Jane Alden in 2011 to give the first all-vocal performance of Cornelius Cardew's Treatise (1967), the Vocal Constructivists now have an established reputation for offering adventurous performances, live and online. Coming from diverse backgrounds that include classical music, dance, mime and noise art, they specialize in the realization of works in open notation. Featured composers include Mark Applebaum, Robert Ashley, Wojtek Blecharz, Anthony Braxton, Neely Bruce, Zeynep Bulut, Jan Duszyński, Carole Finer, Ron Kuivila, Paula Matthusen, Meredith Monk, Pauline Oliveros, Michael Parsons, Tom Phillips, Lauren Redhead, Bogusław Schäffer, Margrit Schenker, Tomasz Sikorski, and Christian Wolff. Drawing on a variety of artistic influences—classical, global, avant-garde, eclectic, and dramatic—the group has commissioned over twenty works, making them an important force in new music-making. All interpretative decisions are made by members of the group, worked out in collaboration. 
Their vivid musical presentations result from extensive engagement with composers and with source materials. They have performed at the Arcola Theatre, Café Oto, The Forge, Jack (NYC), Peckham multi-storey car park, St John's Smith Square, South London Gallery, V22 Summer Club, and Wesleyan University (CT). They were Ensemble-in-Residence for the 2013 Time Stands Still Notation festival, at the 2013 London Contemporary Music Festival, the 2014 Music and/as Process conference, the 2015 Stoke Newington Contemporary Music festival, the 2016 Dublin Ideoprenurial Entrephonics sound art festival, and were the closing act of the Southbank Centre's 2016 Deep Minimalism festival. The Vocal Constructivists gave a series of tribute concerts in memory of Pauline Oliveros in 2017 and 2018. In 2019, they staged Tom Phillips' 1969 opera Irma, were the featured ensemble for an event at the British Library marking the 50th anniversary of the formation of the Scratch Orchestra, and premiered pieces by Wojtek Blecharz in the JEMP: MECHANICAL festival at the Swiss Church, London.
Committed to cross-generational work, the Vocal Constructivists adapted to the Covid-19 pandemic by launching a youth participation scheme, online + in person collaborative performances, and a collective performance curated by a cyborg editor. They commissioned a new piece by Swiss composer Margrit Schenker that intersperses recordings of endangered birds with music for harpsichord, flute, accordion, electronics, and sung and spoken voices and were featured in an installation at Tabakalera Contemporary Art Centre in San Sebastián, Spain, where their recording of Oliveros' Sound Patterns played every 30 minutes for five months (December 2020–May 2021). Experimentalism is a primary motivation, propelling the group away from an expected sound world. The Vocal Constructivist's album Walking Still is available on the Innova label (#898). Follow us on Facebook, @constructivists on Twitter and @vocalconstructivists on Instagram.
Jane Alden is a musicologist, performer, and director with expertise in scribal cultures, manuscript studies, and performance practices of the medieval and modern eras. A Professor of Music and Medieval Studies at Wesleyan University, her publications include the monograph Songs, Scribes, and Society: The History and Reception of the Loire Valley Chansonniers (Oxford University Press, 2010) and a number of articles on medieval and contemporary topics. Jane is currently working on a book entitled Inscribed Experimentalism: The Music of the Scratch Orchestra, which examines the impetus behind Cornelius Cardew's notational innovations. She is active as a director and singer and formed the Vocal Constructivists in 2011.
PHOTOS of PERFORMANCES

Wojtek Blecharz's Three Sound Sculptures for Choir at the JEMP: Mechanical Festival (December 2019)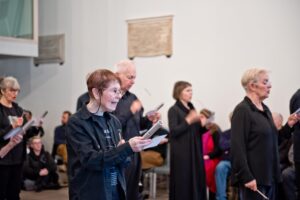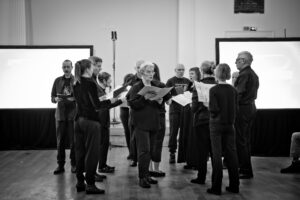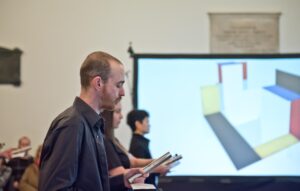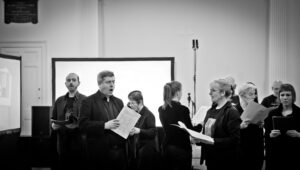 Tom Phillips' Irma at Lumen Church (June 2019)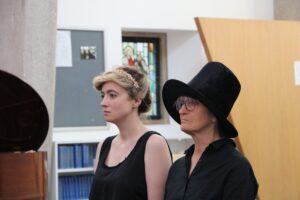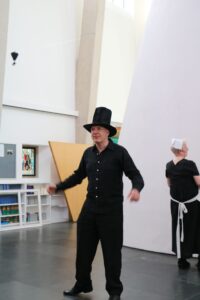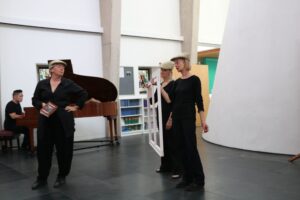 Rehearsing for Cambridge (January 2018)

Deep Minimalism at St John Smith Square, London (June 2016)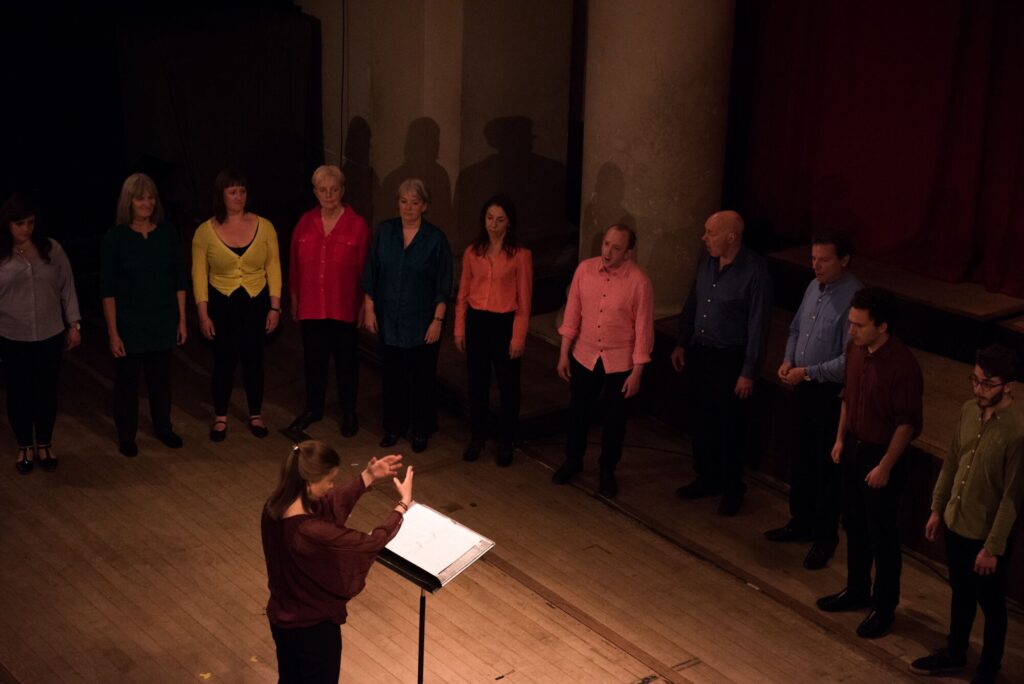 Drawing Towards Sound at the University of Greenwich (March, 2015)
Medium City at JACK, Brooklyn, NY (April 2013)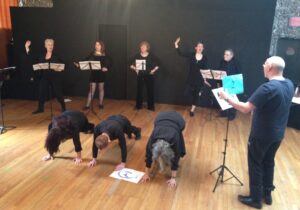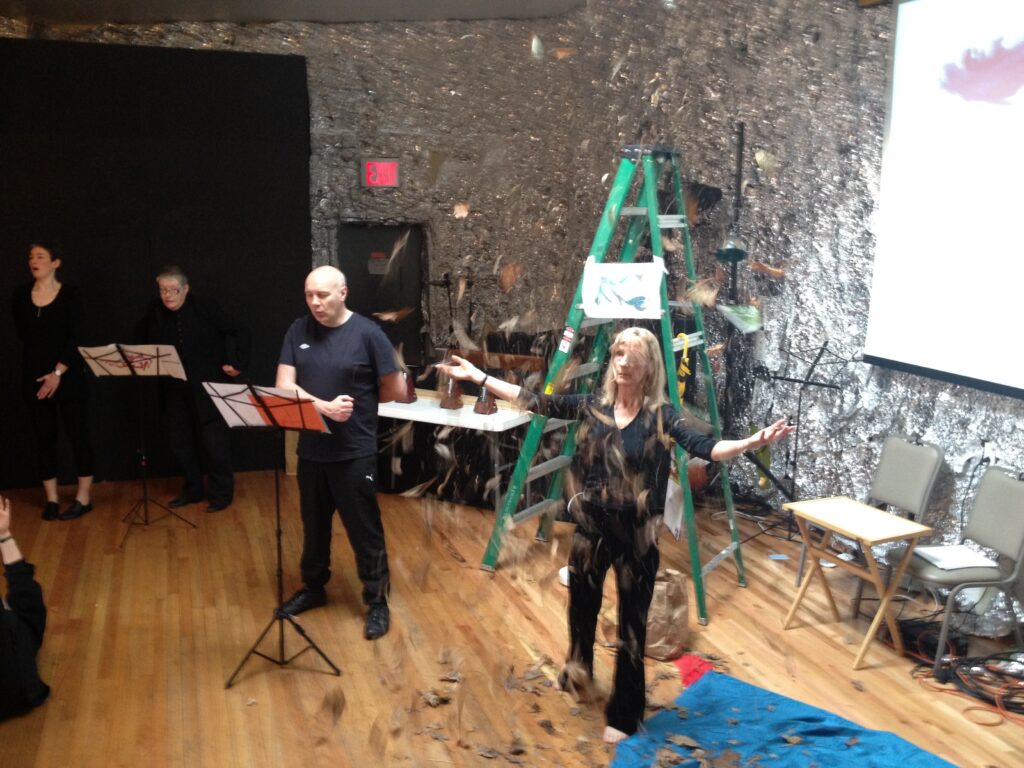 Lektura at The Forge, Camden (November 2012)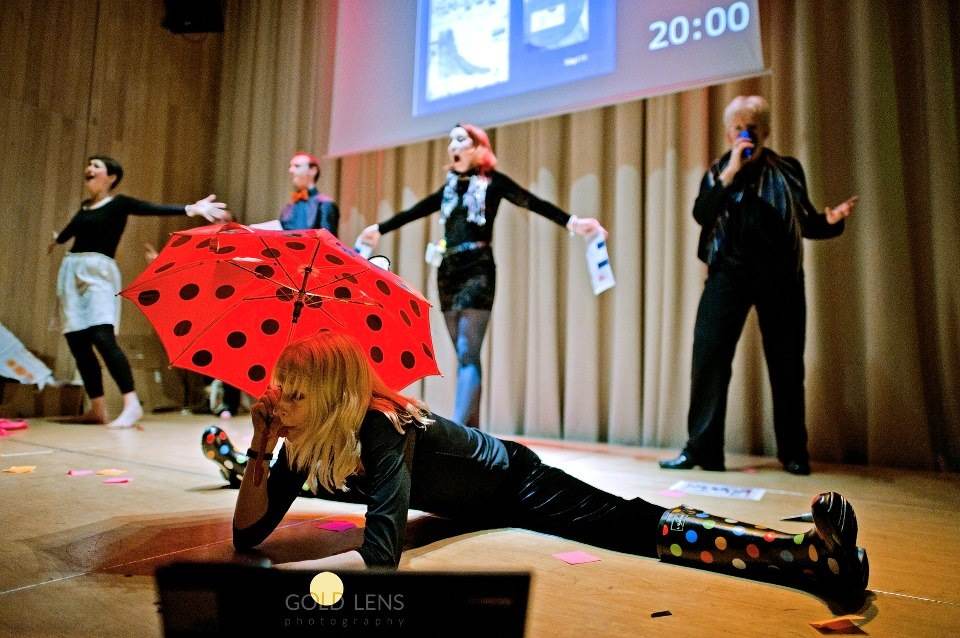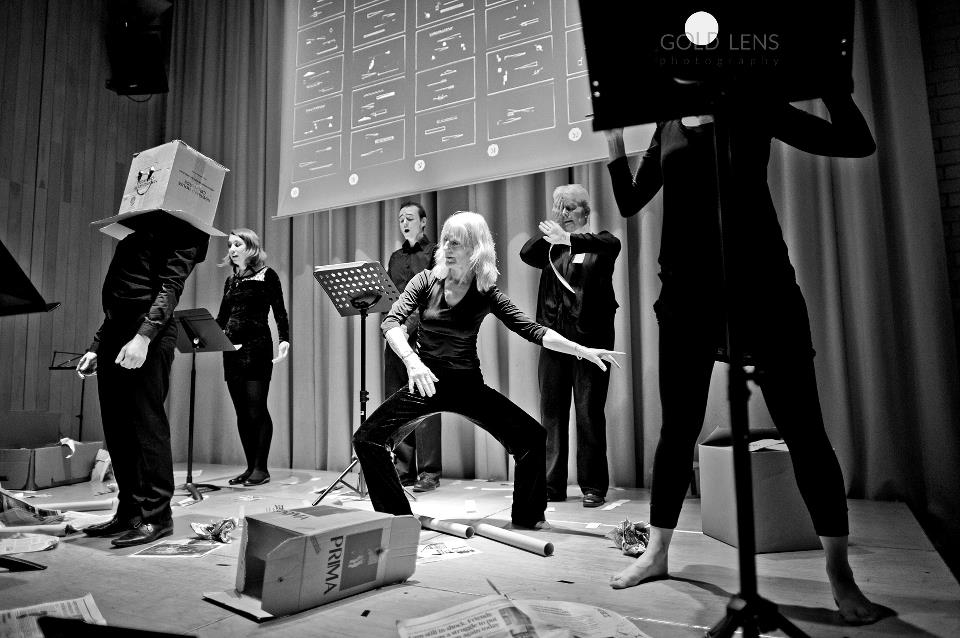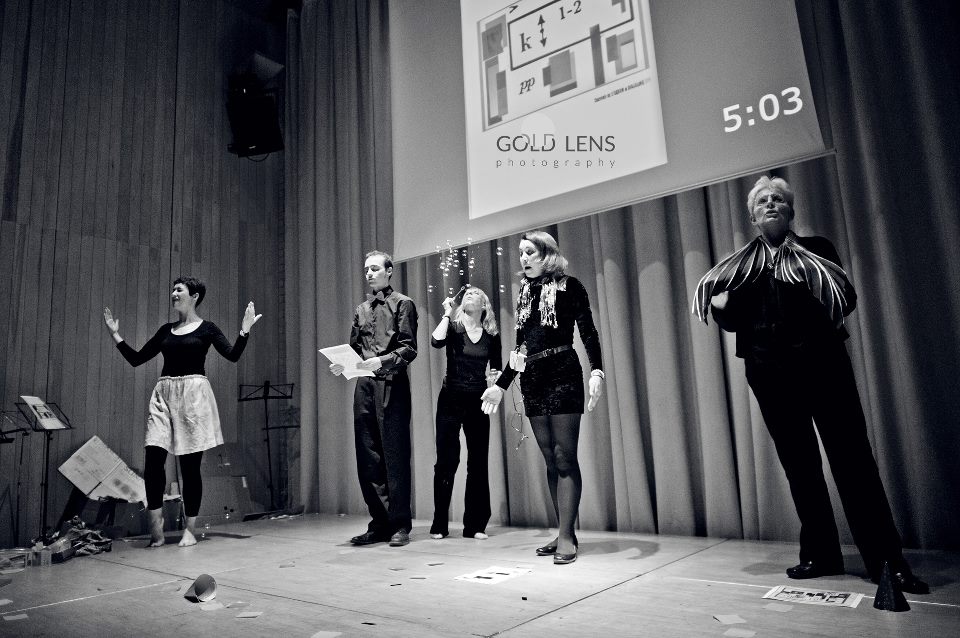 V22 Old Biscuit Factory before the Vocal Constructivists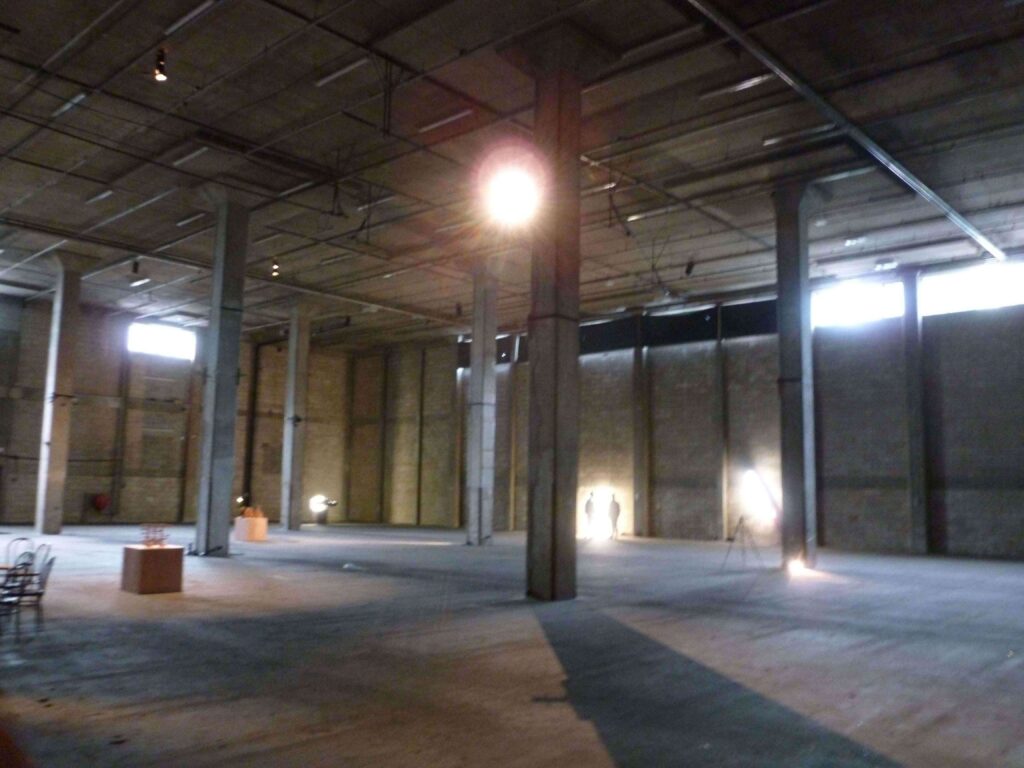 Medium Rare at The Old Biscuit Factory (July 2012)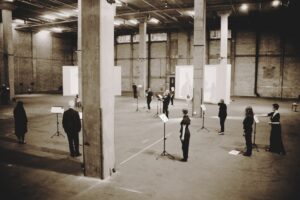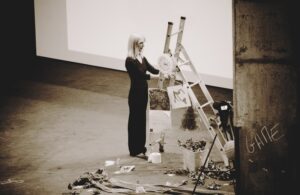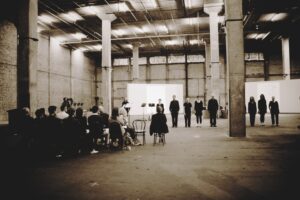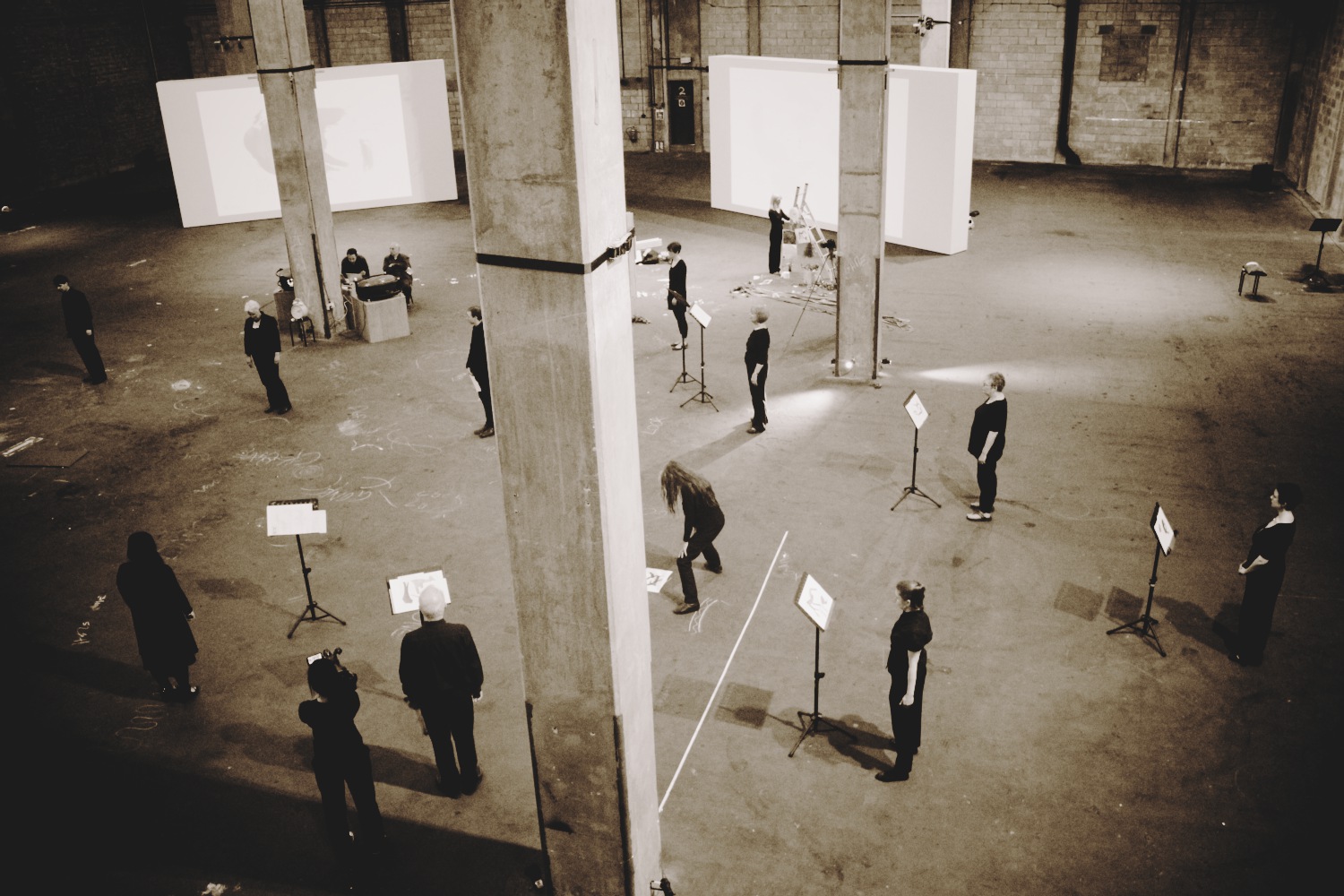 Photo credit: SoundFjord: Sonic Art Gallery and Research Unit. Used with permission.
Cornelius Cardew's Treatise at the South London Gallery (September 2011)