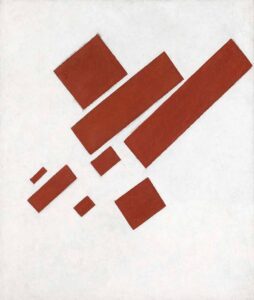 5 December 2015
The centenary of Kazimir Malevich's Suprematist revolution in art inspires this programme, which draws on interest in pure abstraction. Eight Red Rectangles (1915) can be read as if hung on the wall, but given Malevich's interest in aerial photography, the rectangles can also be interpreted as objects seen from above. Believing graphic scores have the ability to transcend their own temporal and geographical immediacy, the Vocal Constructivists extend Malevich's exploration of infinite space into the realm of sound, with their free interpretations of visual materials, at the intersection of a cappella vocal performance and live art.
This programme juxtaposes 18th and 20th century music by Polish composers. We use innovative choreography, and hand-made props, to introduce this new musical collage to a broader audience. Being himself a playwright as well as a composer, Bogusław Schaeffer (b. 1929) pioneered cross-disciplinary activities. His work mixes ideas and techniques from many areas of theatre and visual arts practice including sfumato, sgraffito, collage, found objects, Surrealism and live art. Wojciech Kosma (b. 1981) is an artist who writes music, his Songbook offering provocative instructions and challenges for performers. Tomasz Sikorski (1939-1988) left a series of 'tasks' in artists' books. We also perform works by Andrzej Koszewski (b. 1922), Kasia Glowicka (b. 1979), and a piece commissioned for us by Jan Duszyński (b. 1976). We also perform the winning entry from the festival graphic score competition.
Since the only instrument used by the Vocal Constructivists is the human body, the playfulness of our live performance accentuates the inherent physicality of the music. We explore the relationship between the artifact and live event, interpreting pieces that push us into new and more complex definitions of what music can be.
According to Deirdre Heddon, live art is defined by melancholy and communitas. Melancholy here refers to internalizing loss: the knowledge that the performance will inevitably end, and can never be repeated, informs the performance itself. Communitas calls for connection, for the performers to make a largely anonymous audience feel as though they have shared an intimate and meaningful experience.
The relationship between live art and graphic scores has been little explored by scholars or practitioners. Our collaborators include composer Michael Parsons, co-founder of the Scratch Orchestra, performance artist Stefan Szczelkun, Eve Libertine, former vocalist in the influential anarcho-punk band Crass, and playwright May Treuhaft-Ali. These artists work with members of the Vocal Constructivists in experimental music/theatre workshops that examine the social and dramatic interactions around graphic and text scores. For more information, contact: The Stoke Newington Contemporary Music Festival, www.theoldchurch.org.uk