In November 2012, the Vocal Constructivists were invited by the multi-talented Kasia Sobucka to participate in Deconstruction Project's Jazz and Experimental Music From Poland 2012 Festival at The Forge, London. The concert was written up in the Wire.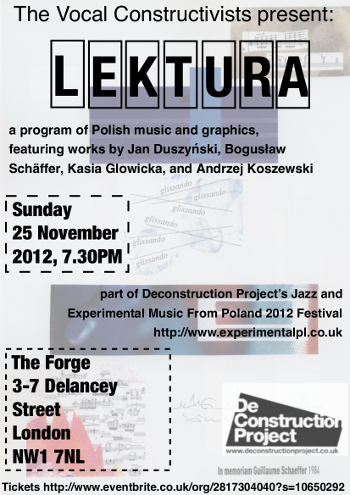 We chose to base our programme around the works of polymath Bogusław Schaeffer (b. 1929). In addition to Lektura (for six performers, written in 1979), we performed a selection of his color pieces spanning a 40-year period. The Deconstruction Project commissioned a work for us by a young, charismatic Polish composer, Jan Duszynski (b. 1976). We all enjoyed performing his piece. The youngest composer we featured was Kasia Glowicka (b. 1979) while the oldest living composer was Andrzej Koszewski (b. 1922). Poland has a long and distinguished musical history, and we wanted to put these modern works into a historical context. We chose therefore to include four movements of the Missa Rorate II by Grzegorz Gerwazy Gorczycki (1667-1734), a Polish contemporary of George Frederic Handel.
The Vocal Constructivists always display the scores as they perform. In the Forge, we used the projector to show images and facsimiles of the autograph manuscript of the Gorczycki mass. Our historical journey was thus visual as well as aural.